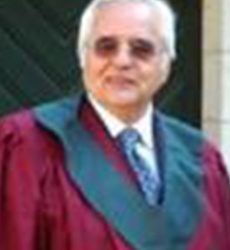 Specialization: INTERNATIONAL RELATIONS
Dr. Dimitrijevic specialized in research and risk analysis in the context of international security, particularly in the post-conflict solutions and in the international management of global politics and economy. He teaches in international politics and diplomacy, with an emphasis on a leadership challenge, on foreign policy of major powers and on history of the West and the Atlantic Community. 
Dr. Dimitrijevic has more than 35 years of experience in international relations and diplomacy. His studies in Law and International Relations were pursued in Yugoslavia and Switzerland.
During his 25 year-long career as a diplomat, he worked in the Middle East, in the United Nations Headquarters in New York, and in the United Nations Office at Geneva. As a senior diplomat he covered the work of the UN Security Council and various bodies and acted as the Head of the Foreign Minister's Office, and as the Deputy Representative to the Conference on Disarmament.
Since 1990, he resides with his family in Geneva, where he obtained the post-graduate Certificate in Strategic and Security Studies and Doctorate in International Relations. He worked as the United Nations appointed consultant and the legal advisor at the UN Institute for Disarmament Research and the UN Compensation Commission, the temporary body of the UN Security Council created after the Gulf War. He has also lectured in contemporary international politics at the Webster University in Geneva.
From 2003 he also acts as the founder and the principal of the NBD Consulting Group, providing for its international clients the analysis and reflections on current global affairs. It includes his role as the international development advisor to the President of the World Trade Center Geneva, and as the Affiliate Representative of the global WTC Association to the United Nations and other international organizations in Geneva. 
Leadership & International Politics
Leaders of the 20th and 21st Century
Politics and Traditional Societies
The Middle East
Awakening in the Middle East
Buffer States in International Relations
The Atlantic Community